Current Promotion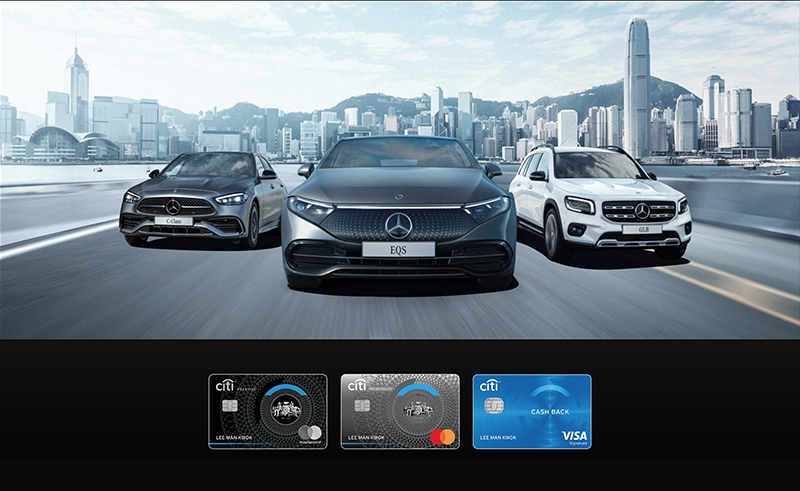 Exclusive rewards for Citi Credit Cardholders:

Earn up to HK$12,500 Service Credits upon purchase of selected Mercedes models
Mercedes-Benz and Citi Credit Cards present multiple all-new offers to top up your purchase with rewards and service credits*!
From now until 31 May, 2022, use Citi Prestige, Citi PremierMiles and Citi Cash Back Credit Card to pay up to 35% of your purchase of selected Mercedes-Benz car models and get up to HK$12,500 Zung Fu Service Credits1 for an array of professional aftersales services for your new Mercedes. From the all-new C 200 AMG Edition sport saloon to the all-electric EQS luxury saloon, drive home any of the below models and now!
More details
*
The offer is subject to related Terms and Conditions.
Please click here for details
.
1
Cardholders are required to register for a Zung Fu Service Credits account or link their new vehicle to their existing account ("Zung Fu Account") in order to receive the Zung Fu Service Credits ("Rewards"). The Rewards will be credited into Cardholder's Zung Fu Account automatically on the date of vehicle's first registration and will be valid for two years from the date of issuance.
---
Remarks
*Based on "Agility" from Mercedes-Benz Financial Services with 20% down payment and 36 months contract period, application subject to credit approval
#Applicable to 2021 stock car only
+Smartphone integration (e.g. Apple CarPlay) is subject to 3rd party availability in local market
1Only applicable to Sales Contract issued from 01/05/2022 to 31/05/2022; Vehicle to be licensed on or before 30/06/2022


Terms & conditions apply
Images for reference only
E 200 AMG Line
Price
HK$ 599,000# (Original price: HK$ 633,988)
Monthly Fee*
HK$ 6,689*
Engine
L4 / 1,991 cc / 197 hp (equipped with EQ Boost)
Standard equipment highlights:
AMG Line
18" AMG light-alloy wheels
360-degree parking camera
Panoramic sliding sunroof
Supports Apple CarPlay+
Blind spot assist
Special offer#, ':
HK$34,988 vehicle price discount (originally HK$633,988)
1 out of 3 Limited Special1: HK$10,000 petrol vouchers
1 out of 3 Limited Special1: HK$10,000 down payment rebate (purchases via "Agility" financing solutions)
1 out of 3 Limited Special1: Enjoy as low as 0% interest rate via Finance Lease
Remarks
*Based on "Agility" from Mercedes-Benz Financial Services with 20% down payment and 36 months contract period, application subject to credit approval
#Applicable to 2021 stock car only
+Smartphone integration (e.g. Apple CarPlay) is subject to 3rd party availability in local market
1Only applicable to Sales Contract issued from 01/05/2022 to 31/05/2022; Vehicle to be licensed on or before 30/06/2022


Terms & conditions apply
Images for reference only
Remarks
*Based on "Agility" from Mercedes-Benz Financial Services with 20% down payment and 36 months contract period, application subject to credit approval
#Applicable to selected stock car only
1Only applicable to Sales Contract issued from 01/05/2022 to 31/05/2022; Vehicle to be licensed on or before 30/06/2022


Terms & conditions apply
Images for reference only
GLC 300
Price
HK$ 559,000
Monthly Fee
HK$ 5,952*
Engine
L4 / 1,991 cc / 258 hp
Standard equipment highlights:
All-digital instrument display
Panoramic sliding sunroof
MBUX multimedia system
Blind spot assist
Special offer#:
HK$31,988 vehicle price discount (originally HK$590,988)
1 out of 3 Limited Special1: HK$10,000 petrol vouchers
1 out of 3 Limited Special1: HK$10,000 down payment rebate (purchases via "Agility" financing solutions)
1 out of 3 Limited Special1: Enjoy as low as 0% interest rate via Finance Lease
Remarks
*Based on "Agility" from Mercedes-Benz Financial Services with 20% down payment and 36 months contract period, application subject to credit approval
#Applicable to selected stock car only
1Only applicable to Sales Contract issued from 01/05/2022 to 31/05/2022; Vehicle to be licensed on or before 30/06/2022


Terms & conditions apply
Images for reference only
Remarks
*Based on "Agility" from Mercedes-Benz Financial Services with 20% down payment and 36 months contract period, application subject to credit approval
#Applicable to selected stock car only
1Only applicable to Sales Contract issued from 01/05/2022 to 31/05/2022; Vehicle to be licensed on or before 30/06/2022


Terms & conditions apply
Images for reference only
GLB 250 4MATIC
Hottest Price
HK$ 509,000# (Original price: HK$ 538,098)
Monthly Fee
HK$ 5,802*
Engine
L4 / 1,991 cc / 224 hp
Standard equipment highlights:
Third seat-row (7-seater)
KEYLESS-GO Comfort Package with HANDS-FREE ACCESS
Off-Road Engineering Package
MBUX multimedia system with touch-screen digital display
18" light-alloy wheels
Parking package with reversing camera
Special offer#:
HK$29,098 vehicle price discount
1 out of 3 Limited Special1: HK$10,000 petrol vouchers
1 out of 3 Limited Special1: HK$10,000 down payment rebate (purchases via "Agility" financing solutions)
1 out of 3 Limited Special1: Enjoy as low as 0% interest rate via Finance Lease
Remarks
*Based on "Agility" from Mercedes-Benz Financial Services with 20% down payment and 36 months contract period, application subject to credit approval
#Applicable to selected stock car only
1Only applicable to Sales Contract issued from 01/05/2022 to 31/05/2022; Vehicle to be licensed on or before 30/06/2022


Terms & conditions apply
Images for reference only
Remarks
*Based on "Agility" from Mercedes-Benz Financial Services with 20% down payment and 36 months contract period, application subject to credit approval
1Upgraded standard equipment is applicable to selected stock only, available while stocks last
2Only applicable to Sales Contract issued from 01/05/2022 to 31/05/2022; Vehicle to be licensed on or before 30/06/2022
Terms & conditions apply
Images for reference only
CLA 250 Coupé
Price
HK$ 496,406
Monthly fee
HK$ 5,659*
Engine
L4 Turbo / 1,991 cc / 224 hp
Standard equipment highlights:
AMG Line
18" AMG light-alloy wheel
MBUX multimedia system with touch screen
Multifunction sports steering wheel
Parking package with reversing camera
Special offer2:
Free upgrade to Panoramic sliding sunroof1
1 out of 3 Limited Special: HK$10,000 petrol vouchers
1 out of 3 Limited Special: HK$10,000 down payment rebate (purchases via "Agility" financing solutions)
1 out of 3 Limited Special: Enjoy as low as 0% interest rate via Finance Lease
Remarks
*Based on "Agility" from Mercedes-Benz Financial Services with 20% down payment and 36 months contract period, application subject to credit approval
1Upgraded standard equipment is applicable to selected stock only, available while stocks last
2Only applicable to Sales Contract issued from 01/05/2022 to 31/05/2022; Vehicle to be licensed on or before 30/06/2022
Terms & conditions apply
Images for reference only
Remarks
*Based on "Agility" from Mercedes-Benz Financial Services with 20% down payment and 36 months contract period, application subject to credit approval
'Applicable to selected stock car only
#Only applicable to Sales Contract issued from 01/05/2022 to 31/05/2022; Vehicle to be licensed on or before 31/05/2022
1Based on 60% NCB


Terms & conditions apply
The images are for reference only
GLE 450 4MATIC
Special Price
HK$ 899,000# (Original price: HK$ 919,938)
Monthly Fee
HK$ 10,928*
Engine
L6 / 2,999cc / 367hp (equipped with EQ Boost)
Standard equipment highlights:
MBUX multimedia system with touch screen
Supports Apple CarPlay
Blind Spot Assist
Panoramic sliding sunroof
Special offer#, ':
Free 1st year insurance and license fee (valued at HK$24,129) 1
HK$20,938 vehicle price discount
Upgraded standard equipment: 7-seater version
Upgraded standard equipment: Fully electrically adjustable second seat row
Upgraded standard equipment: Aluminium-look, illuminated running boards with rubber studs
Limited-time quadruple offers: Up to HK$8,000 Service, Repair & Accessories Cash Voucher
Limited-time quadruple offers: 9H Protective Coating service session - one time (valued at HK$10,800)
Limited-time quadruple offers: HK$5,000 down payment rebate (purchases via "Agility" financing solutions)
Limited-time quadruple offers: Zoono®️ Cabin Sanitisation Service - 3 times (valued at HK$1,440)
Remarks
*Based on "Agility" from Mercedes-Benz Financial Services with 20% down payment and 36 months contract period, application subject to credit approval
'Applicable to selected stock car only
#Only applicable to Sales Contract issued from 01/05/2022 to 31/05/2022; Vehicle to be licensed on or before 31/05/2022
1Based on 60% NCB


Terms & conditions apply
The images are for reference only
Remarks
*Based on "Balloon Hire Purchase" from Mercedes-Benz Financial Services with 20% down payment and 36 months contract period, application subject to credit approval
#Applicable to 2021 stock car only. Offer applicable to sales contract issued between 01/05/2022 to 31/05/2022; Vehicle to be licensed on or before 31/05/2022. Limited quota; first come, first served.


Terms & conditions apply
Images for reference only
S 450 4MATIC
Special Price
HK$ 1,498,000# (Original price: HK$ 1,602,958)
Monthly fee*
HK$ 18,412*
Engine
L6 / 2,999cc / 367 hp (equipped with EQ Boost)
Standard equipment highlights:
2nd generation MBUX multimedia system with OLED screen
Panoramic sliding sunroof
Supports Apple CarPlay
Ambient lighting
19" light-alloy wheels
Special Offer#:
HK$104,958 vehicle price discount
Remarks
*Based on "Balloon Hire Purchase" from Mercedes-Benz Financial Services with 20% down payment and 36 months contract period, application subject to credit approval
#Applicable to 2021 stock car only. Offer applicable to sales contract issued between 01/05/2022 to 31/05/2022; Vehicle to be licensed on or before 31/05/2022. Limited quota; first come, first served.


Terms & conditions apply
Images for reference only
Remarks
*Based on "Balloon Hire Purchase" from Mercedes-Benz Financial Services with 20% down payment and 36 months contract period, application subject to credit approval
#Applicable to 2021 stock car only. Offer applicable to sales contract issued between 01/05/2022 to 31/05/2022; Vehicle to be licensed on or before 31/05/2022. Limited quota; first come, first served.


Terms & conditions apply
Images for reference only
S 500 4MATIC
Special Price
HK$ 1,998,000# (Original price: HK$ 2,142,493)
Monthly Fee*
HK$ 24,557*
Engine
L6 / 2,999cc / 435 hp (equipped with EQ Boost)
Standard equipment highlights:
2nd generation MBUX multimedia system with OLED screen
Panoramic sliding sunroof
Supports Apple CarPlay
Active Ambient Lighting
20" light-alloy wheels
Burmester® 3D surround sound system
MBUX rear tablet
Frontal airbag in rear
Special offer#:
HK$144,493 vehicle price discount
Remarks
*Based on "Balloon Hire Purchase" from Mercedes-Benz Financial Services with 20% down payment and 36 months contract period, application subject to credit approval
#Applicable to 2021 stock car only. Offer applicable to sales contract issued between 01/05/2022 to 31/05/2022; Vehicle to be licensed on or before 31/05/2022. Limited quota; first come, first served.


Terms & conditions apply
Images for reference only
Remarks
*Based on "Agility" from Mercedes-Benz Financial Services with 20% down payment and 36 months contract period, application subject to credit approval
#Applicable to 2019 stock car only. Offer applicable to sales contract issued between 01/05/2022 to 31/05/2022; vehicle to be licensed on or before 31/05/2022. Limited quota; first come, first served.


Terms & conditions apply
Images for reference only
V 260 AMG Exclusive Long Facelift
Special offer
HK$ 699,000# (Original price: HK$ 869,413)
Monthly Fee
HK$ 10,806*
Engine
L4 / 1,991cc / 211 hp
Standard equipment highlights:
Panoramic sliding sunroof
Ambient lighting
Electrical operated sliding doors
EASY-PACK tailgate
Special offer#:
HK$170,413 vehicle price discount
Free first-year "PREMIER Protection Plan" (valued: HK$10,800)
Complimentary Ocean Park Marriott Hotel Staycation (1 night), with buffet breakfast for 2 adults and 2 children
Complimentary Ocean Park admission tickets for 2 adults and 2 children, with "Meet the Animal" experience
Remarks
*Based on "Agility" from Mercedes-Benz Financial Services with 20% down payment and 36 months contract period, application subject to credit approval
#Applicable to 2019 stock car only. Offer applicable to sales contract issued between 01/05/2022 to 31/05/2022; vehicle to be licensed on or before 31/05/2022. Limited quota; first come, first served.


Terms & conditions apply
Images for reference only
Remarks
*Based on "Agility" from Mercedes-Benz Financial Services with 20% down payment and 36 months contract period, application subject to credit approval
#Applicable to 2019 stock car only. Offer applicable to sales contract issued between 01/05/2022 to 31/05/2022; vehicle to be licensed on or before 31/05/2022. Limited quota; first come, first served.


Terms & conditions apply
Images for reference only
V 260 AMG Exclusive Extra Long Facelift
Special Price
HK$ 709,749# (Original price: HK$ 869,413)
Monthly Fee
HK$ 11,072*
Engine
L4 / 1,991 cc / 211 hp
Standard equipment highlights:
AMG Line
19" AMG light-alloy wheels
Adjustable first-row Captain Seats with armrests and legrests
360-degree parking camera
Ambient lighting
EASY-PACK tailgate
Special offer#:
HK$159,934 vehicle price discount
Free first-year "PREMIER Protection Plan" (valued: HK$10,800)
Complimentary Ocean Park Marriott Hotel Staycation (1 night), with buffet breakfast for 2 adults and 2 children
Complimentary Ocean Park admission tickets for 2 adults and 2 children, with "Meet the Animal" experience
Remarks
*Based on "Agility" from Mercedes-Benz Financial Services with 20% down payment and 36 months contract period, application subject to credit approval
#Applicable to 2019 stock car only. Offer applicable to sales contract issued between 01/05/2022 to 31/05/2022; vehicle to be licensed on or before 31/05/2022. Limited quota; first come, first served.


Terms & conditions apply
Images for reference only
Mercedes-Benz Sales Outlets

Enquiry Hotline: 2504 6140
Chai Wan Showroom
Address: 60 Ka Yip Street
Hung Hom Showroom
Address: 50 Po Loi Street